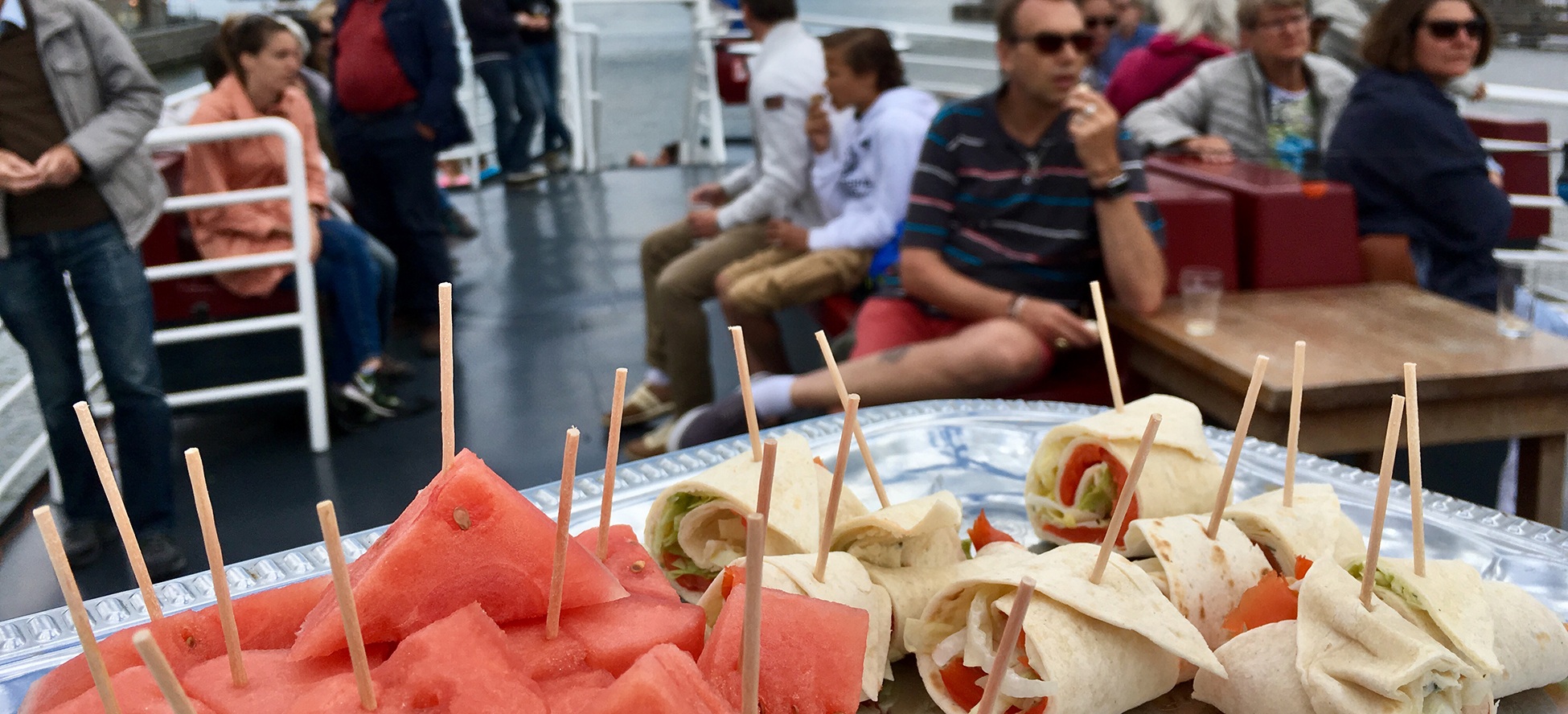 Good food and drinks during your event or outing
Enjoy sailing and good food: a great combination for a successful event
Enjoying a dinner together with your colleagues, friends and family is always nice. But if you combine the dinner with sailing it is even greater. So make your team dinner or company dinner event even more fun by renting our boat. What you want to eat can vary from a few tasty snacks during your party to an extensive walking dinner during your company event. Since our ship has a professional kitchen, (almost) everything is possible. Both meat lovers and vegetarians can come to us for delicious food. We also work with a number of good caterers. So all we ask is to pass on your wishes (and budget) to us and we will make a nice proposal!
Rent a boat including drinks
Renting our boat always includes drinks. Because an outing or event without something to drink is very unpleasant. And because we do not like any (unpleasant) surprises afterwards we always offer unrestrained drinks for a fixed fee per person. In this way you know in advance exactly how much it will cost and during the event, everyone can order drinks without having to worry about the money or limits. Drinks (unlimited beer, soft drinks, wine, coffee and tea) can be arranged for 6,54 per person per hour (excl. VAT). If you also want spirits or maybe some special beers from Brouwerij 't IJ (of course), we can discuss the possibilities.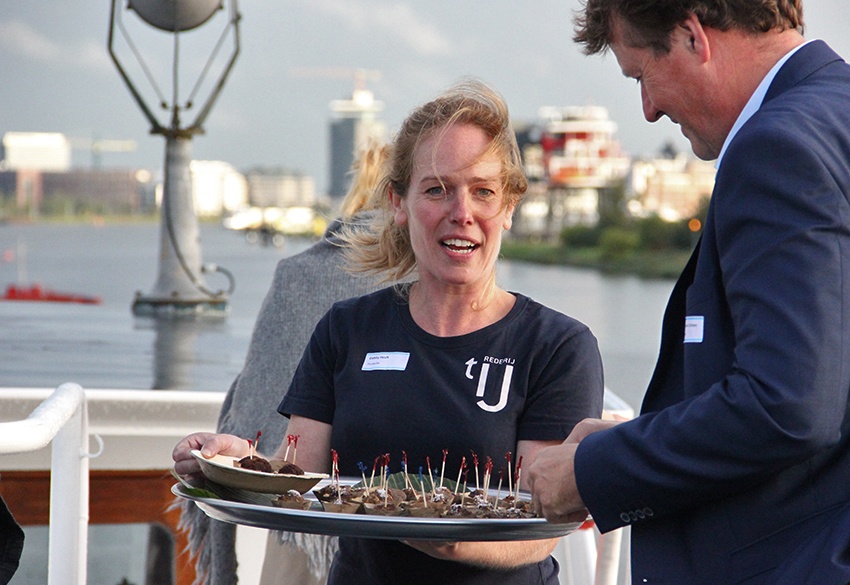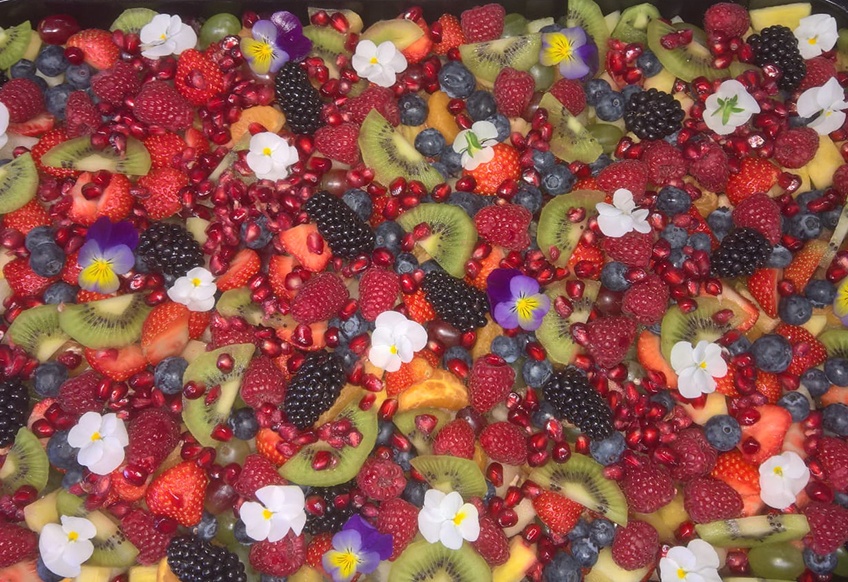 Capacity: 75 up to 350 people
Seated dinner: up to 150 people
Walking dinner or buffet: up to 250 people
Drinks or party: up to 350 people
Our ship is unique because you can have dinner with a group of up to 250 people. And since our ship has both large indoor saloons and outdoor decks, we are very flexible in the style of food we offer. A nice summer BBQ on the outside decks, a dinner at long tables or a walking dinner so that everyone can keep moving or dancing around the ship while dinner is served.
What do our customers say?
"We made a very nice trip over the IJ during which a delicious bbq was served. The crew was very helpful and very friendly. We definitely recommend the ship and crew if you are looking for a nice location for a special party. "
"We received delicious wines and bites, it was all worth it. Top crew! Everything for the customer so to speak."
What can you eat during your dinner event?
During your (team) event you get good food. No frills, but also no pre-packaged salad. We work with multiple caterers who all work with good and fresh products. And that can be meat, fish or vegetables. So what kind of food do you get during your event? That depends entirely on your wishes! After we have heard from you what you want (and what your budget is), we will send you a proposal. But maybe you can already think of what kind of food style you would like? Maybe you just want some tasty snacks during your party? Or maybe you like a summer BBQ on the outside deck? Or how about a walking dinner where everyone can walk around or dance while the different dishes are served in such a way that you can eat them while standing or dancing. But also foodcourts and buffets are possible. In short, we are flexible and want you to enjoy the food during your event.
Can we also eat vegetarian during our event?
Vegetarian food is an important part of our foodbook. Our aim is to offer more and more vegetarian snacks or dishes that real carnivores also like. In this way you can all eat the same thing since the number of vegetarians at events is increasing. And although we do sometimes serve a 'vegetarian bitterbal', we work with meat substitutes as little as possible. We simply make delicious fresh recipes with vegetables. But although we eat vegetarian food as much as possible, we also love a tasty satay once in a while, so a combination of the two is of course also possible. Also now, we would like to hear from you what your wishes are and we will make a tasty proposal!
Are there people with allergies?
We would like to know in advance if there are people with allergies. Because during the boat trip itself we can no longer arrange alternatives. So ask your guests if they have an allergy (like peanut, gluten, lactose etc) and let us know in advance.
Enjoy your company event on our boat with good food and drinks!
Request a quote without any obligation and receive an answer from us within 24 hours. Or you can also call us at 0031 (0)20 – 341 73 96