Celebrate your birthday party on our boat!
Would you like to celebrate your birthday party on a boat and enjoy a fantastic party yourself?
Our ship, the Stortemelk, can make that happen! With multiple interior spaces and two amazing outdoor decks (including a large panorama deck over the entire length of the ship) you'll have plenty of space to enjoy your birthday. Plus, the ship can be arranged flexibly, making the ship suitable for groups of 75 up to 350 people. The atmosphere onboard is casual and laid-back, ensuring that everyone feels comfortable and has a good time. And making your day or evening unforgettable. So if it is your birthday soon and you want to celebrate your birthday on a boat in the Amsterdam or Zaandam area, please don't hesitate
to contact us
to explore the possibilities.
Why celebrate your birthday party on a boat?
If you're searching for the perfect location to host your birthday party (because your house is too small, you don't want to deal with the hassle of arranging and cleaning up everything yourself, or you simply want to celebrate your birthday in a unique way), then a boat is an excellent choice. Firstly, because you can celebrate your birthday outdoors. While you chat, and/or dance, and indulge in snacks and drinks, you'll have fantastic panoramic views over the water. Especially our ship, the Stortemelk, is unique, as it features two large outdoor decks. Additionally, celebrating your birthday on a boat creates a sense of intimacy and exclusivity that can't be found in other party locations.
Moreover, a boat is an incredibly versatile location for a birthday party, with plenty of possibilities for customization. You could opt for a lively dance party with a DJ or live band, a relaxed gathering with tasty bites and drinks, a BBQ on the outdoor deck, or even a stopover at a unique destination like Fort Island Pampus. The options are endless, and we want to hear from you about what you envision for your special day.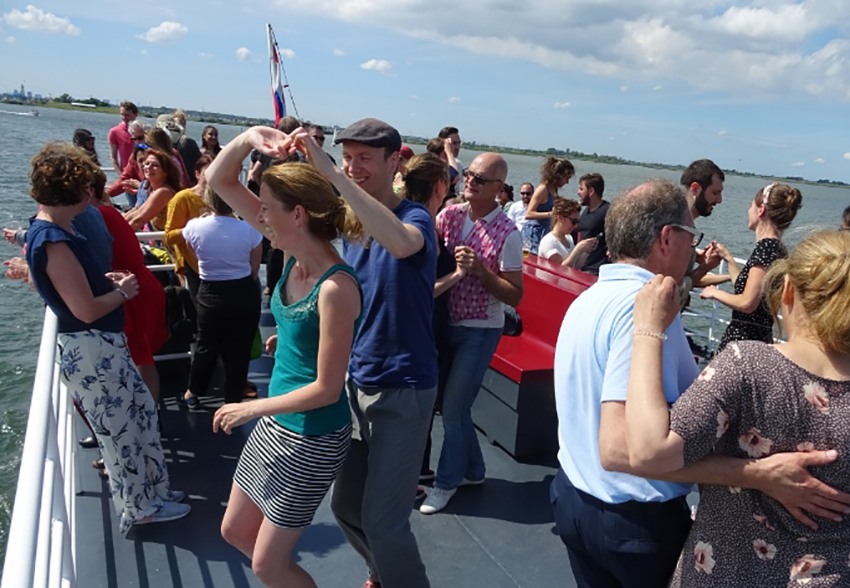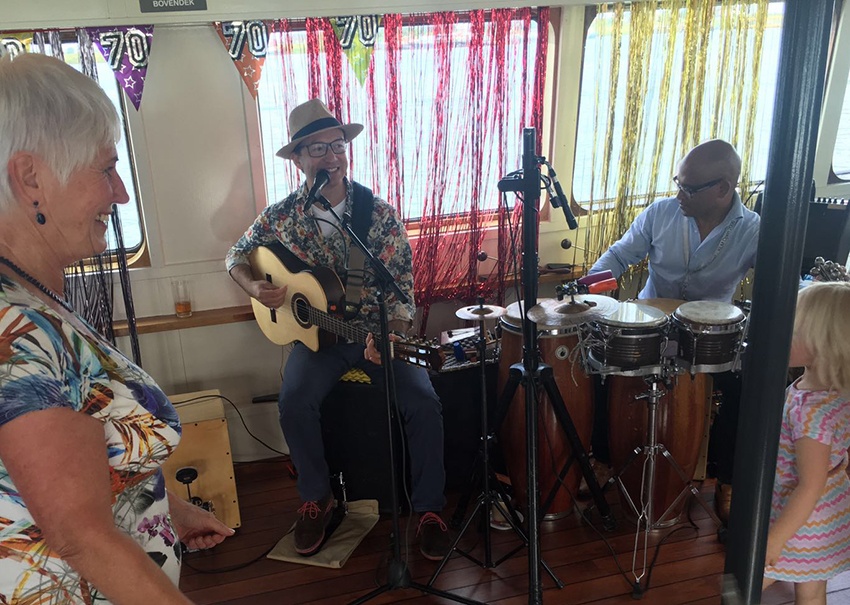 Looking to celebrate your birthday on a boat? We've got you covered!
Our regular boarding locations are Steiger 14, located behind Central Station in Amsterdam, as well as the Burchtkade or Zaantheater in Zaandam. These are both great options if you want to enjoy your birthday in Amsterdam or Zaandam. However, as a sailing party location, we can also come to other places. In the past, we've sailed from Enkhuizen, Hoorn, Harlingen, IJmuiden, Huizen, Muiden, and Lelystad. So no matter where you want to celebrate your birthday, we can make it happen!
What do our customers say?
"We had a very beautiful trip over the IJ, during which a delicious BBQ was also served. The crew was very helpful, super friendly, and enjoyable. Absolutely recommended if you are looking for a fun location for a special party."
"Last Saturday I celebrated my birthday in the sailing café. It was a very successful evening, made possible by Rob and his crew."
Our boat has hosted several successful birthday parties in the past.
Several birthdays have been celebrated on board our ship. For example, we helped two sisters celebrate their 30th birthday with a casino-themed party. They had a blackjack table on the aft deck and played roulette on the upper deck as the sun set over the Markermeer. It was the perfect setting! Another success was a 60th birthday celebration with family on Fort Island Pampus. They enjoyed cake on the way there and a delicious BBQ on the way back. We also had the pleasure of hosting an 80th birthday party for a guest who had spent a lot of time at sea in his life. The oyster man and the accordion player with sea shanties created a fantastic atmosphere on board. Futhermore we remember a 70th birthday party with a BBQ and live Brazilian band. All of our guests left the ship with smiles on their faces. We love hosting birthday parties and making them unique and unforgettable. So, are you ready to celebrate your next birthday on our boat?
Looking to enjoy delicious food during your birthday party?
Of course, a birthday cake is always an option, but we can also provide tasty snacks or a BBQ freshly prepared on board. It all depends on what you feel like on your special day. Let us know your wishes and budget, and we'll work together to make it happen. Regardless of your choice, we always ensure that the food is good, with a focus on pure and natural ingredients.
Celebrate your birthday on our boat!
Request a quote without any obligation and receive an answer from us within 24 hours. Or you can also call us at 0031 (0)20 – 341 73 96