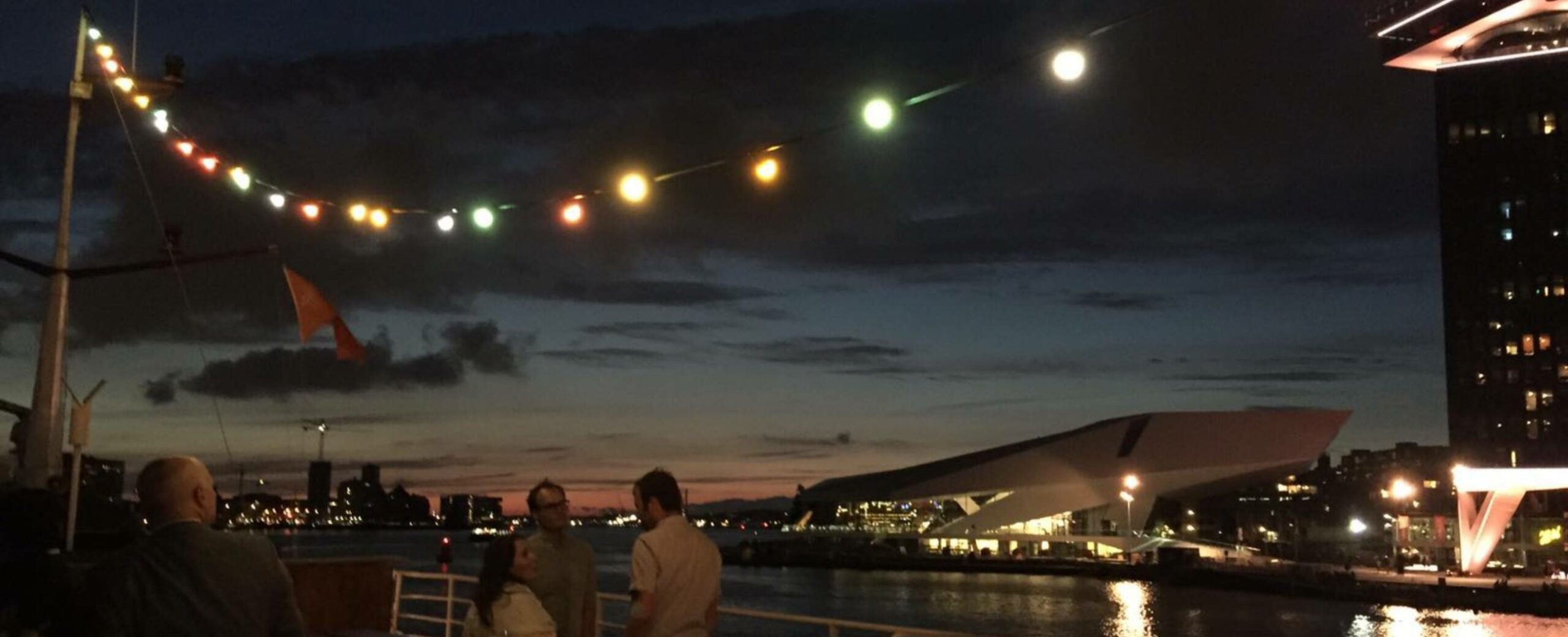 Christmas and New Year's Party Drinks Amsterdam
Host your Christmas or New Year's party on our boat!
Are you in charge of organizing this year's Christmas or New Year's (party) drinks? Are you searching for a unique and cozy venue to celebrate the end of the year with your colleagues (or kick off the new one)? Then our ship Stortemelk is perfect for you. The boat features two heated indoor rooms and can accommodate
groups of 75 to 350 people
. Of course, we decorate the ship with Christmas ornaments to make it even cozier during the festive month of December (or early January). And coziness is guaranteed aboard with us! Because we always create a relaxed and informal atmosphere. Plus, you're on a boat with your company christmas outing for a reason. So while you and your colleagues are enjoying drinks and partying, you'll be sailing past the lights of the beautifully illuminated Amsterdam skyline. You'll have a stunning view from both the outdoor decks (when you need some fresh air) and the warm salons. And if you're in the mood for dancing during your company outing, we can arrange a DJ or live band. Whether you're planning a Christmas party, New Year's bash, year-end celebration, or any event for a group of 75 to 350 people in the Amsterdam or Zaandam area,
please get in touch with us
. We're flexible, happy to brainstorm with you, and committed to ensuring you have a fantastic time on board!
And yes, since we are a mobile venue, we can certainly come to a different location (as long as there is water). We have hosted company parties, association events, and family outings on board in places like Hoorn, Huizen, Harlingen, Enkhuizen, Muiden, Rotterdam, Lelystad, IJmuiden, and Haarlem.
Please contact us
if you want to rent a boat for your christmas company outing in a location other than Amsterdam or Zaandam.
Christmas or New Year's Drinks
Come and celebrate the year's end with your colleagues (or welcome the new year) on our ship. The boat is beautifully decorated in Christmas spirit. While you enjoy a nice drink and the lovely winter lights of the Amsterdam skyline, we will serve the appetizers. Do you prefer only vegetarian snacks? Or a combination of snacks? Let us know your preferences, and we will make a proposal.
Price: € 39,50 p.p. ex VAT, including 3 hours boat trip, unrestrained drinks and bites. Based on 125 people.
Christmas buffet
Do you want more than just snacks but at the same time not an extensive dinner for your Christmas or New Year's company outing? Then you can consider an informal buffet. And yes, ofcourse, a typically dutch 'stampotten'buffet is also possible to enhance the winter atmosphere (perhaps complemented with hot chocolate and mulled wine). If you wrap up the evening with a DJ, your Christmas party or year-end celebration will be truly unforgettable.
Price: € 59,50 p.p. ex VAT, including 3 hours boat trip, unrestrained drinks and buffet. Based on 125 people.
Christmas dinner
Would you like to take a more extensive Christmas outing this year? Then, of course, you can also organize a Christmas dinner on our ship. However, it is of course nice to keep walking around while sailing so that you can look around you for the beautiful views. And that is why we always recommend a walking dinner. During a walking dinner, the freshly prepared dishes are served per course in a bowl or glass, designed to be easily enjoyed while walking, standing or sitting. But also dancing, for example. So do you really want to go all out for a special Christmas party or end-of-year party on board? Then you can also arrange a DJ or live band, while everyone enjoys delicious food and drinks.
Price: € 75 p.p. ex. VAT, including 3 hours boat trip, unrestrained drinks and walking dinner. Based on 125 people.
Foodbook 2023 (Autumn, Winter)
Do you want to get an idea of the possible bites and dishes for your Christmas company outing or New Year's party? Then leave your email address and receive our food book for 2023 in your inbox.
What do our customers say?
"HIGHLY RECOMMENDED! A cozy, homey ship with a fantastic crew. Well taken care of decorations, food, and crew. All 150 guests had an excellent time. Because we had two indoor salons in use, we could dance on one deck and have quieter activities on the other. The top deck, decorated with lights, even in winter weather, invited us to spend time there as well."
"We partied on the Stortemelk after a company outing with a hundred people. What a celebration we had on this boat. Epic! Everyone was enthusiastic. Delicious snacks and friendly staff!"
"It was a great party on a boat with a very lovely personality (just like the crew)! Many thanks for the excellent care and the easygoing and pleasant collaboration in organizing it! Looking forward to seeing you again!"
Why choose our boat for your Christmas or New Year's drinks, Christmas party, or year-end celebration?
Firstly, because sailing adds a special touch to your Christmas drinks, New Year's drinks, Christmas party, or year-end celebration. As the ship cruises along the Amsterdam Skyline, you'll enjoy the beautiful lights. Secondly, the Stortemelk is a charming ship with two heated indoor salons, offering you greater flexibility. You can play the same music in both salons or transform one into a tranquil lounge area. Should you wish to step out for some fresh air and take a break from the festivities, you can head to the spacious outdoor decks, where the winter lights create a festive ambiance.
Thirdly, we love informality, a personal touch, and a relaxed atmosphere on board. So if you also appreciate these aspects, then you've come to the right place.
Additionally, we are a small shipping company, which means we are adaptable. We will never serve you anything that we ourselves do not appreciate. This is why we work closely with you to tailor the experience to your preferences, ensuring a high-quality and enjoyable event. Ultimately, our aim is for everyone on board, including you as the organizer, to have a relaxed time on board.
In short, if you want to enjoy a relaxed Christmas drinks, New Year's drinks, Christmas party, or year-end celebration with your colleagues, consider
renting your christmas boat from Rederij het IJ
and enjoy!
These Christmas drinks, Christmas parties and New Year's drinks happened before you
Here are some examples of gatherings and parties we've hosted on board during Christmas and New Year:
An extensive Christmas party (or year-end celebration for those who didn't celebrate Christmas) where a DJ played in one of the indoor salons for colleagues who enjoyed dancing. The other salon provided a relaxed lounge area for socializing and playing games. Meanwhile, a walking dinner was served, allowing everyone to enjoy delicious dishes while still being able to dance or move around.
A New Year's drinks event where guests were welcomed with Dutch doughnuts (oliebollen), prosecco, and accordion music.
A Christmas drinks event with Brazilian live music for everyone to enjoy some dancing.
A Christmas outing with an extensive winter buffet and a Christmas bingo where participants had to match the right colleague with the correct statement or fact.
In short, many options are available. So, if you also want to organize your Christmas company drinks, New Year's drinks, Christmas dinner, or year-end celebration on a boat in the Amsterdam and Zaandam area, please share your preferences (and budget) with us, and we will provide you with a customized quote.
What are the boarding locations?
If you rent a boat with us for your christmas or new year's company outing, you can choose between our standard boarding locations in Amsterdam and Zaandam. In Amsterdam, our regular boarding location is 'Steiger 14' (Pier 14) behind Amsterdam Central Station. This boarding location is easily accessible by public transport and cars can park cheaply in Parking garage Oosterdok. Coaches can also drop guests off within a 5-minute walk. In Zaandam, the Burchtkade or the pier at the 'Zaantheater' is the standard boarding location. Do you want to board at a different location (remember that we can't go in the canals)? Please contact us for the possibilities.
Tips for a Company Christmas drinks, New Year's drinks, or Christmas party on a boat
It might sound like a cliché, but it's fun to ask everyone to come in festive clothes. However, even if everyone comes in their own outfit, it will still be fun (after all, the ship is already nicely decorated in Christmas spirit, so the cozy Christmas atmosphere is guaranteed). Do advise guests to dress in layers so they can comfortably move around both in the warm indoor salons and on the outdoor decks.
Furthermore, it's helpful to provide a final arrival time that is 5 minutes before the ship's departure time. This way, everyone will be on board in time for the ship to set sail. If you plan to serve food during the event, ask your guests in advance if they have any allergies because once on board, we may not be able to make significant adjustments. Lastly, our tip is to relax and enjoy. We'll make sure that you have a successful Christmas company outing, New Year's drinks, or year-end (Christmas) party on board of our ship!
Rent our boat for your company Christmas or New Year's drinks, or year-end celebration!
Feel free to request a quote, and you'll receive a response from us within 24 hours. Or call us directly at 0031 (0)20 – 341 73 96