Rent a big boat full of character with great outdoor decks for groups of 75 up to 350 people
Renting a boat in Amsterdam or Zaandam is always fun. And that applies to all occasions. Because whether you want to rent a big boat for a company event, company outing, birthday, family outing or wedding, it is always great to enjoy and relax on the water with friends, family and colleagues. And while you are chatting and enjoying a drink, you have a fantastic view from one of the great outside decks or from the cosy saloons. At Rederij het IJ you can rent a ship in the area of Amsterdam and Zaandam for groups of 75 up to 350 people. And do you want to rent a boat for a dance party? Or are you looking for a cozy ship for a nice BBQ? Or do you need a location where you can also be outside? You will find it all at Rederij het IJ!
And since we are a sailing location, we can of course also come to other places than Amsterdam or Zaandam (as long as there is water). For example, we have already organized company events, association days and family outings in Hoorn, Huizen, Harlingen, Enkhuizen, Muiden, Rotterdam, Lelystad, IJmuiden and Haarlem. So please do not hesitate
to contact us
if you want to rent a boat somewhere else than Amsterdam or Zaandam.
The ship Stortemelk
Sailing is always a great experience, especially on this classic ship! Stortemelk is the ship in Amsterdam where you can organize a fantastic party, outing or event for groups of
75 up to 350 people
.
Since the Stortemelk has two large interior spaces, the ship is suitable for different group sizes. In addition, the furnishings with (bar)tables and chairs are not fixed so that you can prepare the ship for any occasion. So do you want to rent a big boat for a dance party? Then we provide a nice big dance floor. But also seated dining, a cozy drink with standing tables or a plenary meeting is all possible at the ship.
And although it is of course nice that there are (warm) comfortable indoor saloons, you naturally want to go outside on a ship! And that is why the Stortemelk is unique. The ship has two large outer decks, including a big panoramic deck over the entire length of the ship. And so there is enough outdoor space for all guests. So do you want to rent a big boat in Amsterdam or Zaandam? Please request a quote with us. Of course you are also welcom to drop by to view the ship and discuss the possibilities.
Rent a covered boat
Since you are never sure of the weather in the Netherlands, the Stortemelk is suitable for all weather conditions. When the sun shines you can enjoy the outside decks. And if it rains, you can continue partying in the indoor lounges, which are also nicely heated in wintertime. So don't be put off by any (wrongly predicted) bad weather forecast. Because as long as you are together and enjoying, your outing or party will always be a success.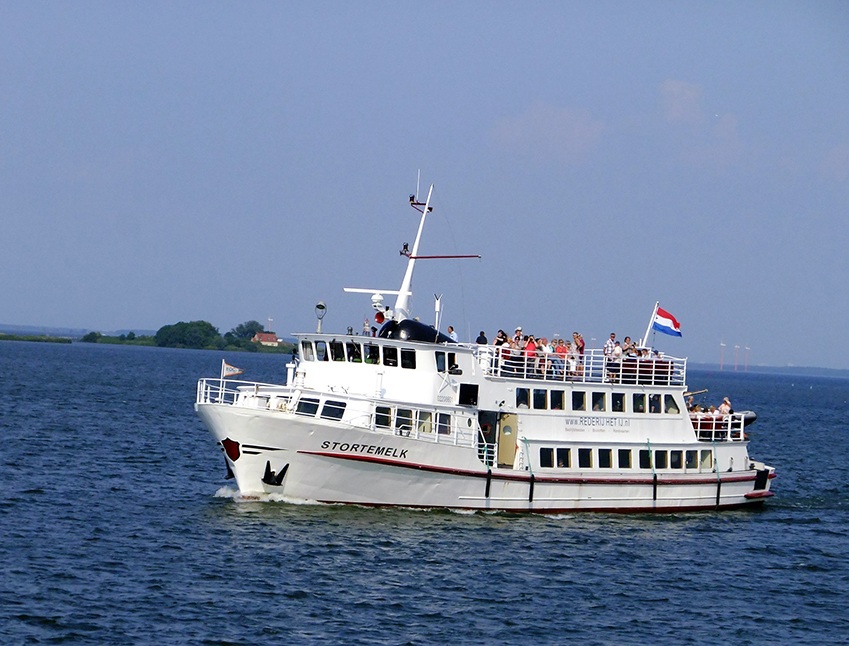 Capacity: 75 up to 350 people
Seated dinner: up to 150 people
Walking dinner or buffet: up to 250 people
Drinks or Party: up to 350 people
Transfer: up to 350 people
Two bars with tap installation
Multiple large outdoor decks
Professionally equipped kitchen
Soundsystem and microphone
Multiple ladies and gents toilets
What do our customers say?
"RECOMMENDED! A cozy homey ship with a fantastic crew. They took good care of us with food and drinks. All 150 guests had a great time. Because we had two indoor lounges in use, we could dance in one lounge and organize quieter activities in the other saloon. Despite the winter weather, the upper deck, decorated with lights, invited us to spend time there too."
"The entire team of the ship Stortemelk gave our company (200 colleagues from Germany) an unforgettable day. Although the weather was unfortunately rainy, the atmosphere on the boat made up for it. The personal and friendly attitude of all staff made us feel welcome. We had delicious bites and lunch in abundance, excellent service and at the end of the boat trip a beautiful "landing" at the Muiderslot Castle.
We really appreciated the flexibility in the preparations and all desired program changes were implemented effortlessly. On behalf of all colleagues: Herzlichen dank!"
Why rent a boat at Rederij het IJ?
Firstly because the Stortemelk is a beautiful ship with great outdoor areas where you can organize an event or outing for a large group (up to 350 people). Secondly, we like a personal approach and a nice relaxed, informal atmosphere on board. So if you like that too, you've come to the right place.
Furthermore, we are a small family company and therefore flexible. We will also never would serve you anything that we ourselves wouldn't like. Ultimately, our goal is to give you and your guests a relaxing time on board. And that certainly also applies to you as the organizer. So in short, do you want to enjoy a relaxing time on the water with your colleagues, friends and family and not worry about the organization of the event on board? Then rent a boat at Rederij het IJ and enjoy!
How much does renting a private boat cost?
The price for renting a private boat with captain depends of course on your wishes. The basis is two hours of sailing including unlimited drinks for €25.00 per person (excl. VAT) (based on a group of 100 people). Do you want to sail an hour longer? Then you pay € 10.00 per person extra (excl. VAT). The price always includes captain, crew and drinks. Furthermore it depends on what else you want. Do you want a BBQ, walking dinner or bites? Do you want a DJ, live band or a trip to Fort Island Pampus? If you tell us your ideas and wishes (and budget), we will make a
tailored quote
. In addition, we make sure that you know clearly in advance what the price will be, so that there are no unexpected costs afterwards.
What are the boarding locations?
If you rent a boat with us, you can choose between our standard boarding locations in Amsterdam and Zaandam. In Amsterdam, our regular boarding location is 'Steiger 14' (Pier 14) behind Amsterdam Central Station. This boarding location is easily accessible by public transport and cars can park cheaply in Parking garage Oosterdok. Coaches can also drop guests off within a 5-minute walk. In Zaandam, the Burchtkade or the pier at the 'Zaantheater' is the standard boarding location. Do you want to board at a different location (remember that we can't go in the canals)? Please contact us for the possibilities.
Can I also book a package?
Sometimes it is nice to book an all-in package. For example, if you organize a company outing or association day. Or if you are responsible for the annual family outing. There are various packages you can choose from, such as the Fortress island Pampus package, the BBQ boat or Discover the IJ. Do you have another idea? Let us know and we will make a tailor-made package.
Rent a boat for transfer from A to B
There are locations that can only be reached by ship, such as Fort Island Pampus or Fort Island IJmuiden. In addition, you have locations that are so beautifully situated on the water that bringing guests by boat makes the event even more special. You can also make the boat transfer even more fun by, for example, welcoming the guests on board with prosecco, an oyster or an accordionist. Are you looking for one or more boats to transfer guests? Then you are more than welcom to ask us for information. We are happy to think along with you about the time schedules and which ships are suitable.
Rent our boat for a great event, party or outing!
Request a quote without any obligation and receive an answer from us within 24 hours. Or you can also call us at 0031 (0)20 – 341 73 96