Celebrate your wedding party on our boat
Do you want to celebrate your wedding party on our marriage boat?
Are you getting married and looking for a unique and unforgettable wedding celebration? Look no further than our marriage boat! Our ship, the Stortemelk, is the perfect location for a relaxed and lively wedding party. We have hosted several weddings where the happy couple and their guests were able to enjoy themselves in a carefree and relaxed atmosphere. Our goal is to make sure that you and your loved ones have an amazing time and create unforgettable memories. Our marriage boat regularly picks up guests at Amsterdam Central Station or the Burchtkade in Zaandam. However, as a sailing location, we can go wherever there is water. So if you want to dance, enjoy the outdoors, and have a laid-back, informal wedding celebration, please don't hesitate
to contact us
!
Why choose our boat for your wedding party?
Getting married on our boat is just too much fun! It's a nice and casual way to celebrate your special day with an intimate atmosphere on board. Imagine dancing on the panorama deck while watching the sun set over the Markermeer. Who wouldn't want that? Our ship is flexible and has several indoor rooms, making it perfect for both large groups of up to 350 people and smaller groups of 75 people. You can have a seated dinner and then convert the ship into a dance floor for those who want to dance the night away. Although the Dutch climate can be unpredictable, we have (warm) comfortable indoor rooms, but we also understand that you'll want to enjoy the outdoors. That's where our ship, the Stortemelk, is unique – with two large outside decks, including a panoramic deck that spans the entire length of the ship.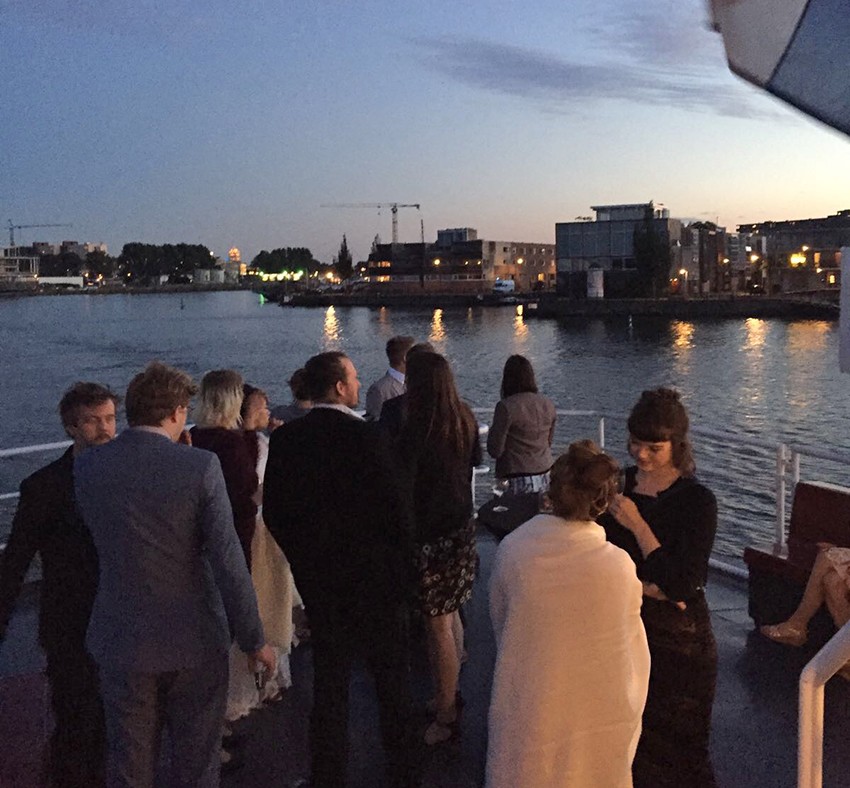 Capacity wedding party: 75 up to 350 people
Seated dinner: up to 150 people
Walking dinner or buffet: up to 250 people
Drinks or party: up to 350 people
Two bars with tap installation
Multiple large outdoor decks
Professionally equipped kitchen
Multiple ladies and gents toilets
Soundsystem and microphone
What do our customers say?
"We all experienced it as a particularly fun and relaxed day. The atmosphere was fantastic and this was partly due to your approach!!"
"My husband and I celebrated our 30th wedding anniversary. That's an achievement and we wanted to celebrate it in a special way with our dearest friends. The organization by Rederij het IJ was fantastic. Everything was arranged. The welcome with music, the sweets with tea and coffee, and later in the afternoon complemented with delicious wine and beer in a great ambiance. It was a great day. Thank you!"
Wedding party with DJ or live music
If you want to go wild at your wedding party, the music has to be good. Perhaps you have a family member or friend who can put together great playlists. In that case, we have the equipment on board to get everyone dancing. But of course, you can also hire a DJ for your exuberant dance party. Or a live band that ensures a great atmosphere. We have worked with several DJs and bands in different music styles. So let us know your wishes and together we'll arrange the perfect music for your wedding party!
Do you want more than just dancing? Perhaps you would like to enjoy a dinner before hitting the dance floor, or even dance and eat at the same time? In that case we offer a walking dinner, where dishes are served in different courses, allowing you to enjoy snacks while dancing. Or maybe you prefer a casual summer party with beer, wine, and a BBQ (the I do BBQ…)? We can provide that on board as well. Simply
contact us
and we will create a customized offer just for you.
Official wedding location in Amsterdam
The Stortemelk has been designated as an official wedding location in the municipality of Amsterdam. That means you can officially say "yes" to each other on the water! That way you can have the wedding ceremony on board before your wedding party. When the weather is nice, you and your family and friends can stand on the large panoramic deck with a view over the water, while the wedding official marries you. So with us you can literally tie the knot!
Celebrating your wedding anniversary on our boat
Have you and your partner been married for 10, 12.5, 25, or even 50 years? And do you want to celebrate this special wedding anniversary with your loved ones? Then what could be better than being together on a boat and enjoying the great views over the water? Our ship, Stortemelk, has various indoor spaces to create a pleasant environment for everyone. There's a relaxed lounge area for the younger guests, while the others enjoy drinks or dance together. Additionally, the ship has two large outdoor decks where you can enjoy the sun with a refreshing drink in hand. If you'd also like to have something to eat, that's no problem. Our professional kitchen on board can prepare all kinds of delicious food. So, let us know what you have in mind, and we'll create a custom quote for you.
Celebrate your wedding party on our boat!
Request a quote without any obligation and receive an answer from us within 24 hours. Or you can also call us at 0031 (0)20 – 341 73 96