Organize your company event on our Boat
Do you want to organize an unforgettable company event but no stress of organizing?
Then rent our boat Stortemelk for your company event. The ship is an outstanding location for corporate events from 75 up to 350 people in the area of Amsterdam. You can dance outside on one of the large outside decks or inside in one of the cozy saloons when it rains (you never know in the Netherlands..). And do you want to enjoy some nice food during your company party? A walking dinner (so everybody can keep dancing) or a nice summer BBQ are all possible. The good thing is that you can organize everything on board of our ship. So no hassle with different locations or companies to organize your company event. And we make sure that you as an organizer do not have to worry about the execution of the event. So that you too (together with your colleagues) can enjoy your time on the water! So if are you organizing a company party for a group of 75 up to 350 people, please don't hesitate to contact us.
And since we are a sailing location, we can of course also come to other places than Amsterdam or Zaandam (as long as there is water). For example, we have already organized company events, association days and family outings in Hoorn, Huizen, Harlingen, Enkhuizen, Muiden, Rotterdam, Lelystad, IJmuiden and Haarlem. So please do not hesitate
to contact us
if you want to rent a boat somewhere else than Amsterdam or Zaandam.
Why is a boat an outstanding location for a corporate event?
There are several reasons to organize your company event on a boat. Firstly, many people love sailing and being on the water. In addition, there is a clear start and end time at which everyone must be present (so not a late starting company party because the majority arrives later or early ending because people are already leaving). Thirdly, guests who do not like to dance can enjoy a drink outside with a great view over the water. In other words, more than enough reasons to choose our boat as a location for your company event.
Our
ship Stortemelk
has two large inside lounges and two great outside decks. Because there are two rooms, you also have more possibilities. Because you can choose to play the same music in both lounges, but you can also turn one of the rooms into a more quiet lounge area. In short, there are plenty of options for an unforgettable company event on our ship. And we make sure that you all enjoy yourself, including those who have to organize it. Dancing and sailing is a great combination for a successful company party!
These company events were alreay organized succesfully on our boat
We have been organizing company events for more than 15 years. The Dutch Bank, for example, organized a great midsummer night company party on the large panorama deck with 150 employees. While the DJ played outside, the staff danced in the open air with a great view over the Markermeer. Furthermore we still have good memories of the Akros company event during winter. While half of the company was dancing in the upper lounge, the other half was having a drink in the downstairs saloon. And in the meantime they enjoyed a walking dinner, where various dishes were served in such a way that people could continue dancing or walking around while eating. And the atmosphere was great! But also theme parties such as a casino party with roulette on one of the outside decks or a DJ 'living room' party with different DJs in the different lounges have been organized on board. And now we would love to welcome you on board with your colleagues. We make sure that you as an organizer do not have to worry about the execution of the company event. So that you too (together with your colleagues) can enjoy!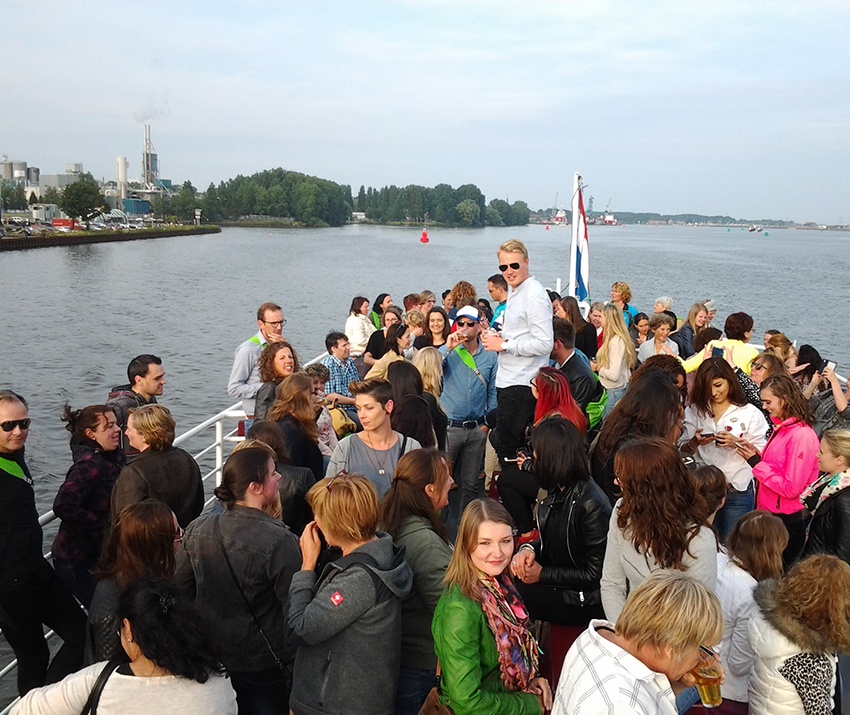 A few practical tips for your company event on our boat
Please take the weather into account. It can be nice and warm in the indoor rooms, but at the same time it can be chilly on the outside decks. So let your guests bring something warm too (obviously unnecessary when it is hot summer weather..). Give people an arrival time with a deadline of 5 minutes before the ship's departure time. In that way everyone is on board in time.
And do you also want to eat during the party? Then ask your guests in advance if they have an allergy. Because once on board we are not able to adjust the menu.
What do our customers say?
"It was a great evening! Everybody was enthousiastic.
If we organize another company event on a boat, we will definitely come back to you."
"Great location, great crew, great atmosphere, absolutely fantastic for our 25th anniversary of AKROS. What a great evening we had! We won't soon forget."
Boarding locations options for your corporate event
If you rent our boat for your company event, you can choose between our standard boarding locations in Amsterdam and Zaandam. In Amsterdam, our regular boarding location is 'Steiger 14' (Pier 14) behind Amsterdam Central Station. This boarding location is easily accessible by public transport and cars can park cheaply in Parking garage Oosterdok. Coaches can also drop guests off within a 5-minute walk. In Zaandam, the Burchtkade or the pier at the 'Zaantheater' is the standard boarding location. Do you want to board at a different location (remember that we can't sail in the canals)?
Please contact us for the possibilities
.
Organize your company event on our ship!
Request a quote without any obligation and receive an answer from us within 24 hours. Or you can also call us at 0031 (0)20 – 341 73 96